European Deans Share 4 Trends Impacting the Future of Business Education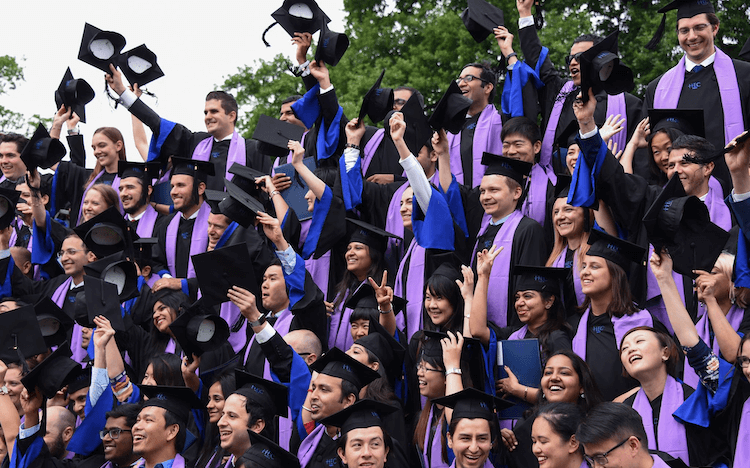 As teachers of future generations of leaders, business schools must harness trends to stay relevant, impactful and innovative, say the deans of European business schools in a new report from the Graduate Management Admission Council (GMAC).
The Future of Graduate Management Education (GME) report draws on insights from the deans of Europe's top 20 business schools. It affirms the continued importance of the business school and provides insight into how schools must adapt to the ever-changing GME landscape.
"In an unstable and disrupted world, business schools are at the forefront of change to ensure they provide the most relevant experience for tomorrow's leaders," said Sangeet Chowfla, President and CEO of GMAC.
Here are five key business trends identified by the report that will impact the future of business school.
---
1. Technology and digitization
Business evolves with technology. The pandemic has accelerated digitalization – the rise of platforms like Zoom, for example – and business schools have adapted to these changes with a growing number of online MBAs.
In the 2020-2021 academic year, more students were enrolled in online MBAs than full-time programs in the United States, according to the Association to Advance Collegiate Schools of Business (AACSB).
But the Future of GME report suggests there needs to be more change in business school pedagogy – the method and practice of teaching.
The deans felt that changes to the curriculum and practice of assessments, and a reimagining of what classrooms and campuses look like, were needed to keep students engaged. They also highlighted the need for a balance between online and in-person teaching to create an optimal learning environment.
"What we teach and how we teach it will change. There is a tremendous amount of innovation on both fronts: the content that we need to change, but also the delivery of the content and the format," said Mauro Guillen, Dean of the University of Cambridge Judge Business School.
---
2. Sustainability and social responsibility
Sustainability is a key driver for the future of businesses, with 62% of CEOs now saying a sustainability strategy is key to staying competitive.
The report showed that deans recognize the role of business schools in preparing students for a more sustainable business landscape. The deans revealed their belief that business ethics, corporate social responsibility and sustainability must be part of the curriculum in the future.
"Factors that have to do with responsible leadership, that have to do with environmental issues, with climate issues – all the challenges we face – should be reflected in the program," said Markus Rudolf of WHU Otto Beisheim School of Management.
---
Download our 2022 MBA scholarship guide
For expert advice on how to improve your chances of MBA scholarships, download our guide to MBA scholarships BusinessBecause | 5 Ways to Boost Your MBA Scholarship Potential
---
3. Content
As innovations such as data and analytics become more important, putting more emphasis on cutting-edge skills, the deans say business schools need to adapt their content to ensure it remains relevant.
This means moving away from traditional education and moving towards an interdisciplinary approach, which balances business and management education with topics such as programming and data analysis, the report reveals.
"Twenty years ago, you had to speak English, but now you have to speak Python, you have to speak finance, you have to speak nanotechnology, you have to speak AI," explains Eloïc Peyrache, from HEC Paris. "It goes beyond business, there's a whole portfolio of languages ​​you need to speak, and those languages ​​are changing very quickly."
---
4. Learning in a post-pandemic world
The pandemic has fundamentally changed the way content should be delivered, with the new generation of learners expecting short, flexible and personalized learning, the report reveals.
Business schools need to adjust the way they deliver their programs to meet this demand. This could mean a mix between blended and in-person learning, choosing to complete the degree in a more flexible timeframe, or collaboration between schools to enhance learning.
"The role of a business school professor or a business school dean is to listen and understand what these young people have in mind, what they want," said WHU's Markus.
---
How do business schools stay relevant?
The Future of GME report shows that the rapidly changing landscape makes staying relevant a challenge for all business schools.
With all the opportunities digitalization presents, business schools need to define their purpose and differentiate themselves by showing what makes them unique and where they fit in the global marketplace.
"It is not uncommon to question the relevance of higher education in business and [ask] if it can keep pace with change and foster inclusive environments," says Nalisha Patel, regional director for Europe at GMAC, which produced the report.
"It is clear that business school leaders are fully committed to continuing to be a key player in nurturing leaders who will impact the future of business, the future of society, and ultimately the future of society. future of the planet," she added.
---
Next reading:
50 reasons why you should get an MBA