Hot reload quickly restored after community feedback
Following pressure from the open source community, the much anticipated Hot Reload feature will be incorporated into the GA version of the .NET SDK 6 when it launches in November.
Hot Reload, a feature available in Flutter and Dart for a few years, allows developers to modify the source code while an application is running and see the results immediately. This speeds up the development process because it is faster than rebuilding the code, shutting down the application, applying the changes, and then relaunching it.
Microsoft had announced the inclusion of Hot Reload in Visual Studio 22 and .NET 6 and the feature was present in preview versions of both. In the case of .NET 6, it was available through the dotnet watch command line tool – until it was suddenly removed.
This removal was acknowledged in a blog post by Dmitry Lyalin, Senior Program Manager, .NET responsible for Hot Reload, XAML Tooling, and .NET MAUI:
October 20, 2021 (Original Text)
Throughout the past year, we've been working to enable the best possible hot reload experience in Visual Studio 2022 and .NET 6. Part of our goal was to explore making this functionality available to customers as well. through a variety of mechanisms such as bringing the full power of Hot Reload to as many .NET and C ++ developers as possible when running through the Visual Studio 2022 debugger, supporting Hot Reload when running running .NET 6 applications without the debugger, and the very basic Hot Reload support that we added to the .NET SDK tools by dotnet watch.
As we reflect on what has been accomplished and what lies ahead, the backlog continues to grow. … With these considerations, we have decided that starting with the next .NET 6 GA release, we will enable the hot reload feature only through Visual Studio 2022 so that we can focus on providing the best experiences to the greatest number of users
He reiterated this position the next day:
Update of October 21, 2021:
Some have noted confusion in the above post. To clarify, we don't release Hot Reload as a feature of the dotnet watch tool.
But two days later, he whirled around:
Update of October 23, 2021:
Based on community feedback, we have decided to bring hot reload support back to the CLI by approving the pull request to re-enable this code path and it will be in the GA version of the .NET 6 SDK. .
Thus, faced with an extraction request taken over by Microsoft and non-Microsoft developers, the code implementing the hot reload feature in dotnet watch, i.e. some 2,500 lines of code, is being "restored" for reactivate the feature. Without this reversal, Hot Reload would have given the commercial product Visual Studio a competitive advantage over VS Code. This in turn would fuel the negative perception that the .NET Foundation is not sufficiently committed to the open source philosophy and the open source community.
More details on Microsoft's response to the community regarding the hot reload issue were provided by Scott Hunter, Director of Program Management, .NET, who apologized for the removal of capacity from the .NET repository. SDK and confirmed that it will be restored, explaining:
As the track is getting shorter for the .NET 6 and Visual Studio 2022 version, we have chosen to focus on the introduction of Hot Reload to VS2022 first. We made a mistake executing this plan in the way it was executed. In our reach effort, we ended up inadvertently removing the source code instead of just not calling that code path. We underestimated the number of developers who depend on this capability in their environments in all scenarios, and how the CLI is being used with Visual Studio to boost inner-loop productivity by many.
Thanking project contributors for their feedback, Hunter writes:
Our desire is to create an open and dynamic ecosystem for .NET. As is the case with many businesses, we learn to balance the needs of the OSS community and be a corporate sponsor for .NET. Sometimes we don't get it right. When we don't, the best we can do is learn from our mistakes and move on.
He concludes :
We are committed to developing .NET in the open and look forward to continuing to work closely with the community.
It's good to know that community feedback can indeed make changes, even if it's only one pull request at a time.
More information
Update on .NET Hot Reload Progress and Visual Studio 2022 Highlights
Support for .NET Hot Reload via CLI
Related Articles
Visual Studio 2022 Preview 4 – More Productivity
Questions Raised About .NET Foundation
To be informed of new articles on I Programmer, subscribe to our weekly newsletter, subscribe to the RSS feed and follow us on Twitter, Facebook or Linkedin.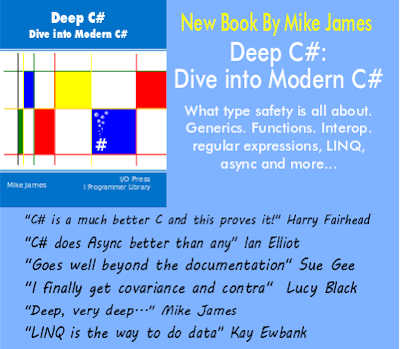 comments
or send your comment to: [email protected]