Hybrid education is here to stay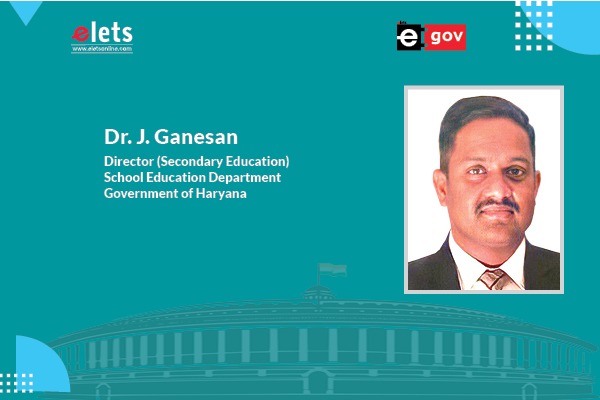 The digitization of education and e-learning platforms have given a facelift to the country's education ecosystem. Hybrid classrooms and distance learning are models that are taking hold as the new normal. Addressing these developments in the context of Haryana, Dr J GanesanDirector (Secondary Education), Department of School Education, Government of Haryana, spoke at the Elets Digital Governance Summit, Haryana Edition.
The government of Haryana has always looked beyond academics and over the years the emphasis has been on vocational training. The National Education Policy (NEP) 2020 gives a greater role to vocational education and the Government of Haryana is aligning with the policy. In state-run public schools, there are about 1074 professional laboratories. "Right now, we train about 1.8 million children in 12 different trades. Over the past year, 90 of our students have been placed, 20 have obtained an internship and 11 have become entrepreneurs," Dr. Ganesan pointed out.
Considering the positive trend towards entrepreneurship, the government of Haryana has set up up to 50 incubation centers in public schools. Apart from vocational training, public schools also teach entrepreneurship to students. "In addition, over the coming year, we are in the process of providing toolkits to students who pass out from incubation centers. These kits will help them start their business," he added.
Read also : Healthcare in Haryana is going digital
Expressing the importance of technology-related skills that will be essential in the times to come, Dr. Ganesan said, "In addition to professional training, we are focused on providing our students with 21st century skills, including coding and the robotics. As for students in Haryana, about 8000 of our students are learning python (coding language). They are trained in designing software, art, games, apps, and more. In terms of robotics, we teach robotics to students through a course in 137 Sanskriti Model Schools. »
UNICEF YuWaah is a program where school students learn four 21st century skills. Haryana is one of the few states where about 2 lakh students have enrolled in this futuristic program. As secondary education becomes the foundation of the future, besides focusing solely on academics, the state government has consistently focused on providing vocational skills and 21st century skills to our students .
Addressing technology in education, he said, the COVID pandemic has revolutionized the traditional teaching-learning space. The system has therefore completely changed.
Technology is here to stay and it will be used in the future as well. During the COVID pandemic, the Government of India and Government of Haryana have launched many initiatives under the PM E-Vidya scheme. "We have launched many applications to ensure continuity of learning. One of the apps was 'Awsar' which we launched to help teachers and students get online. It was nice to see that the technology was immediately accepted by public school teachers and students. Therefore, he assured that models like hybrid education will remain.
Around 20 lakh students from across rural Haryana have used Awsar to learn, practice and take assessments as well. Nearly 95% of state teachers are connected to this system. Not only quizzes, but schools were able to complete three SATs through the online system. Additionally, Haryana was the only Indian state to issue online progress cards through the in-house built app.
Read also : Digital transformation in 2021 from remote control to hybrid
"We issued online progress cards to no less than 24 lakh government school children, during the pandemic," Dr. Ganesan added.
Opening up on the challenges Haryana is facing in online education, he said, "One of the major challenges we faced was the unavailability of devices with students. In most cases, students depended on their parents' devices, while in homes where there were siblings, they had no choice but to share the devices. This reduces the time a student spends studying on a device. To solve this problem, the government of Haryana has undertaken the ambitious task of providing computer tablets to students.
We have already placed orders for five lakh children who will be deployed in August this year. Another nine lakh children will receive devices in the coming year.
However, the government's initiative is not limited to providing devices only, but academic content powered by personalized and adaptive learning algorithm is also provided. Thanks to this, students will be able to learn at their own pace. In addition, to ensure that students can access online content, the government also provides 2 GB of data to each student daily.