Roxanne Wach of THE 39 STEPS at the Chanticleer Community Theater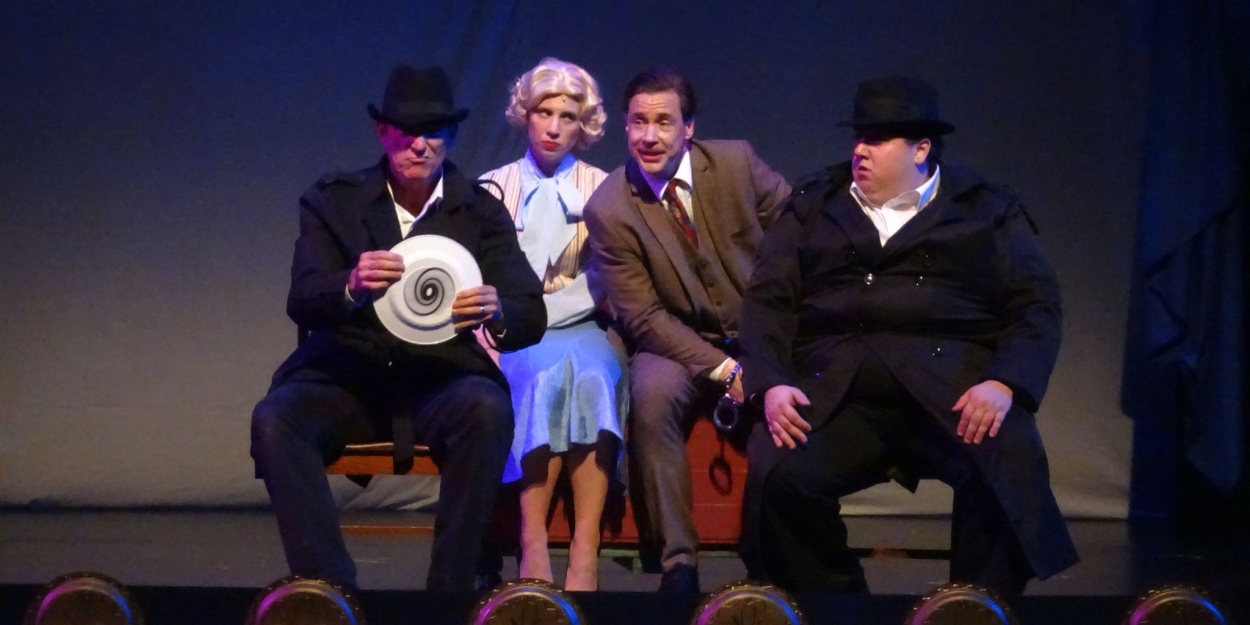 Mix a Hitchcock masterpiece with a juicy spy novel, add a dash of Monty Python and you have The 39 Steps, a fast-paced thriller for anyone who loves theater magic! This two-time Tony and Drama Desk award-winning treat is filled with non-stop laughs, over 150 goofy characters (played by four ridiculously talented actors), an on-stage plane crash, handcuffs, missing fingers and good old fashioned romance. .
Tell me a bit about your intro to this show/script. How did you hear about it?
I saw The 39 steps about 10 years ago and thought it looked like a lot of fun.
What prompted you to direct this specific production at PACE?
Chanticleer asked me to direct it. It's fun to direct in their new theater with so much space. We actually had to reduce the playing space for a cast of 4. They would have just swum across this big stage.
Can you tell me a bit about your audition process for this production? What were you looking for and what brought you to the wonderful cast you assembled?
I pulled some scenes from the script and explained their context and characters, as well as the dialects. I let everyone play around with the performances, telling them I wanted to see what they would bring to the table. The first four actors who read together were my cast. There was such chemistry there and I saw characters that I could lean on. You know, acting is so hard and I never worried about that with this cast. They all really understand the humor of the script and know how to make the most of it. We also understood where we were all going. I loved that they play with the characters and allow me to refine and guide them. We laughed so much during rehearsals, which was just wonderful. I had really forgotten how much healing laughter can do, and there's a lot of it in The 39 steps!
What is The 39 steps about and how does it differ from other current scripts?
The 39 steps is basically Alfred Hitchcock's 1935 film, except it's played by four actors and lots of costumes, hats, wigs and dialects. Three of the actors play multiple characters and one is just one character, but he's a good guy that everyone thinks is bad. So there is that. It was so much fun working with my cast and crew. Lots of funny people involved and our time together was so enjoyable – which definitely translates to the stage.
What were the biggest challenges and surprises of this process for you and the cast?
There are so many details! Multiple characters, rapid costume changes, wigs, many dialects, props…it can be overwhelming. There are 150 beeps – and the beeps aren't just atmosphere, they signal action. I decided to design the sound myself, so we could have it very early in the process. We were all talking about it last night. It was so helpful to have all these things timed ahead of time. I think the biggest surprise for me was how quickly the cast came out of the book! I think we were maybe two rehearsals in the process when they started putting books on various stages. There are a lot of words in this show. Everyone worked so hard on it all. There has been so much collaboration and mutual support. I think the cast is so happy with the help from the team, and also their acting (because of course they're on stage too). Last night was our opening performance, and they were surprised by some things that made them laugh more. I wasn't surprised at the laughs, but they were bigger than me. I like this.
What do you hope audiences will leave after seeing this production?
I am so happy to have had this moment filled with so many laughs. I really hope that the public will come and jump on our adventure and share lots and lots of laughs. It was so fun to see our audience leave with such big smiles on their faces.