Seaford High junior wins the Congressional App Challenge | Herald Community Newspapers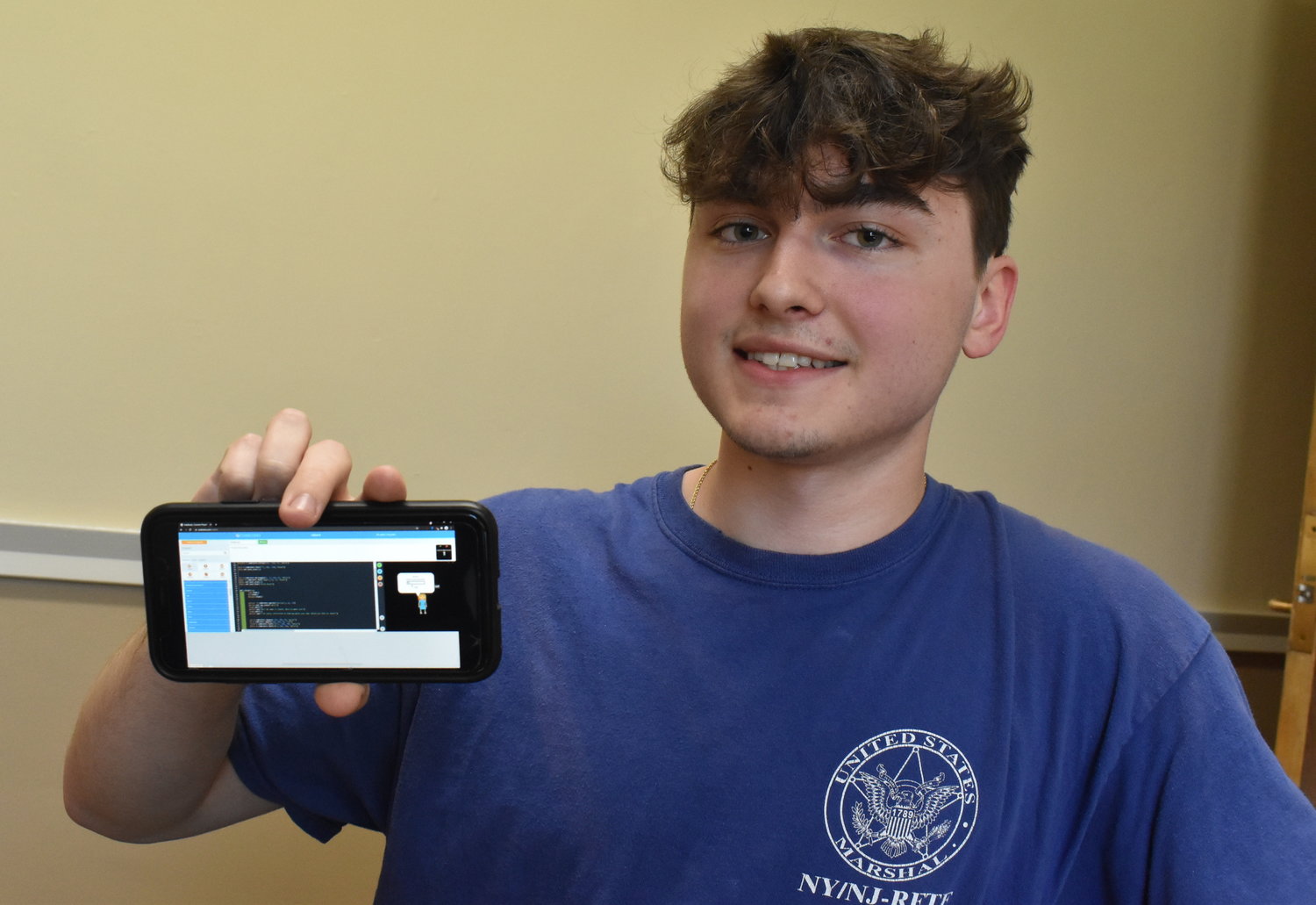 Seaford high school student James Toscano won't need an app to describe how he feels after recently winning a prestigious competition sponsored by none other than the United States Congress.
Toscano won the Congressional App Challenge for New York's 2nd Congressional District, which encompasses southeast Nassau County and southwest Suffolk, and includes Seaford.
Toscano created the DailyBuddy app, which encourages users to share their daily feelings and emotions. According to Toscano, users should write down exactly how they feel on a particular day and how the day went overall. DailyBuddy takes the place of talking to someone about their feelings, especially if they don't want to talk at all. It also offers motivational tips.
Since 2016, Congress has sanctioned a district-by-district app challenge that encourages students interested in computer science to build and code their own apps. More than 14,000 students from 48 states participated in the challenge. Some of the notable congressional officials who have become involved are former 2020 Democratic presidential candidates Tim Ryan and Seth Moulton, as well as Ed Royce, Mimi Walters and Hakeem Jeffries. The current program co-chairs are Jennifer Wexton and Young Kim.
In 2021, the competition produced 2,101 working apps created by students in all participating congressional districts.
Toscano discovered this challenge while looking for computer science scholarships. When he saw that the 2nd District was participating in the challenge, he researched previous winners to see what they had done and found inspiration for DailyBuddy.
As it was not a school project, Ryan Stephens, Toscano's math teacher at Seaford High School who also teaches computer science, did not learn of Toscano's participation until after he won the award.
"I used what I learned from Mr. Stephens' class to code it," Toscano said. When Toscano received the call from Congressman Andrew Garbarino, who represents the Second District, he initially thought it was a spam call from Washington D.C., only to pick up the phone to find he was the district winner.
"James is an intrinsically motivated student," Stephens said. "I learned that he had won the challenge on the district website and immediately wished him my congratulations. James has top-notch programming skills and in my class always goes above and beyond what students are expected.
Stephens also called DailyBuddy "a creative, unique and supportive app that is sensitive to our times." Toscano said the pandemic-induced teen mental health crisis inspired him to code this app.
In Stephens' Intro to Game Design course, students learn to code with the Python programming language, which Stephens says is easier for students than Java programming languages.
"Python is perfect for an introductory course," Stephens said. "It's accessible, the syntax is a bit more basic, and it's not intimidating overall."
Toscano's success may have spurred a renewed interest in computing at Seaford High School, which has been hit by the pandemic.
"I think it's an exciting thing to show students that there are opportunities out there if you decide to pursue computer science," Stephens said. "I think James has led that here at Seaford, showing that there are awards and opportunities available in this growing field."
The Seaford High School Computer Science Club also grew this year over last, and Toscano's award may have contributed to that as well. According to Stephens, the club used to compete in an annual competition at St. Joseph's College in Patchogue, which was canceled due to the pandemic. The Congressional App Challenge could expand to replace that, thanks to Toscano, he said.
Although Toscano is not yet sure which university he will attend, he wants to pursue a degree in computer science and is studying programs at Binghamton University.