The community comes together to celebrate the international fame of Warby-Ovens National Park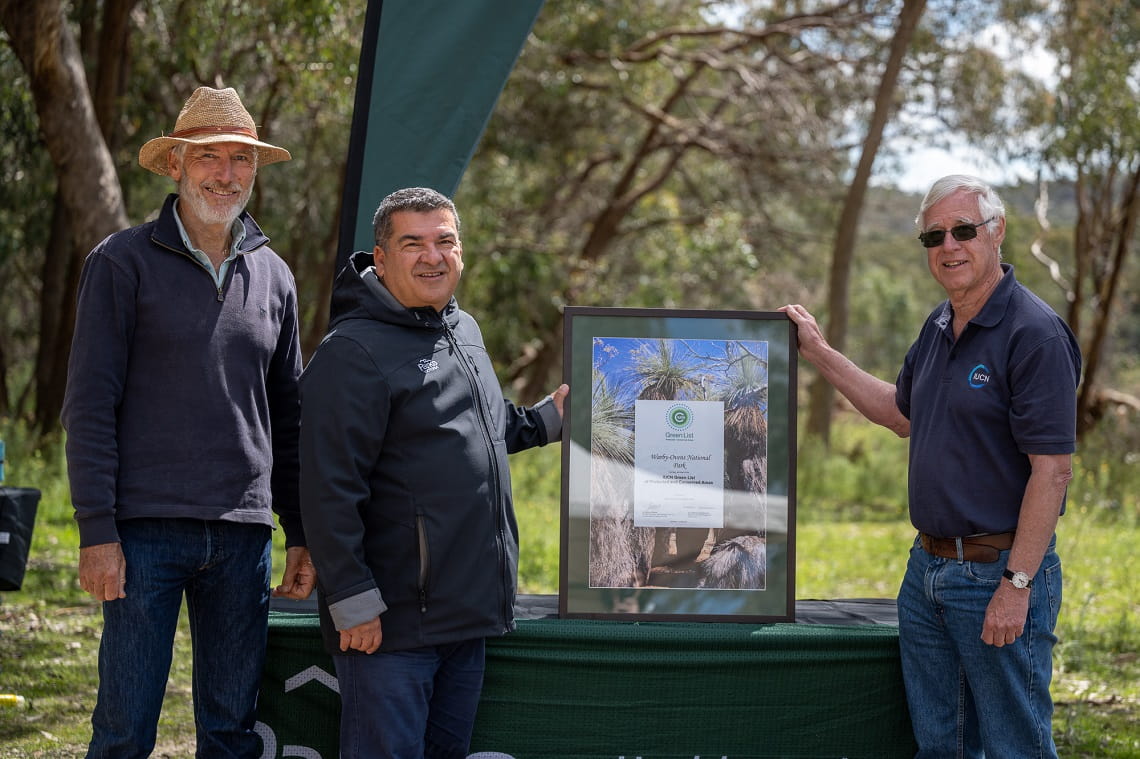 From its ecological diversity to its rich cultural heritage and abundance of adventure activities, Warby-Ovens National Park has long been Victoria's gem for northeasterners.
Situated between the Victorian Alps and the Murray Valley on Yorta Yorta Country, it protects three distinct landscapes – the granite hills and woodlands of the Warby Range, the Box‐Ironbark Forest of Killawarra and the forests and wetlands of the Red Gum River from the heritage site. lower reaches of the River Ovens.
These areas of Box-Ironbark and Riverine forests and woodlands are among the best examples of this habitat in Victoria, following the large-scale clearing of this vegetation after European settlement.
Just over a year ago, in August 2021, the national park achieved global status, becoming Victoria's first site and only the fourth in Australia to be admitted to the prestigious Green List of Protected and Conserved Areas of the United States. International Union for Conservation of Nature (IUCN).
Reflections of the lower ovens, credit – Parks Victoria
This achievement recognizes Warby-Ovens National Park as one of the best managed sites in the world and, for Parks Victoria, recognizes the commitment and passion of staff to safeguard its natural values.
After delays to celebrations due to the impacts of COVID-19, Parks Victoria staff and the community of Wangaratta, along with Traditional Owners and partners, were finally able to gather at Wenhams Camp for a day of festivities, long-awaited camaraderie and learning.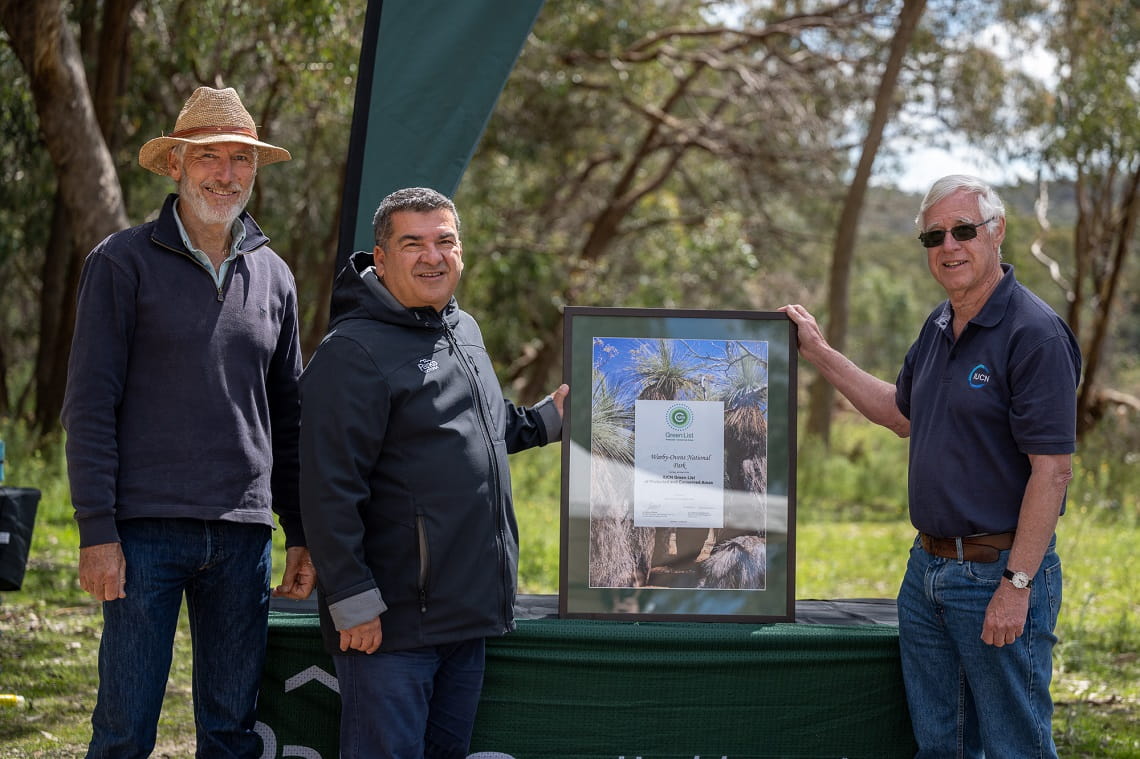 IUCN Vice President Peter Cochrane (left) and IUCN World Commission on Protected Areas Vice President (Science) Marc Hockings present the IUCN Green List certificate to the President of Parks Victoria, John Pandazopoulos (centre) – credit, Parks Victoria
"It's wonderful to see such a diverse group of people, all with the same goal in mind, putting so much care, love and hard work into this special place," said Dr. Parks Victoria's Head of Conservation and Climate Action. .
"The Warby Ranges are truly beautiful and home to a wide range of habitats and plants, such as spectacular giant grasses hundreds of years old."
"Receiving this level of recognition from the International Union for Conservation of Nature is very exciting. Credit goes to everyone involved and their hard work to protect and promote the natural and cultural values ​​of this amazing place. Parks Victoria will continue to seek out and adhere to best practice and global standards to help nature and care for the country in these difficult times. »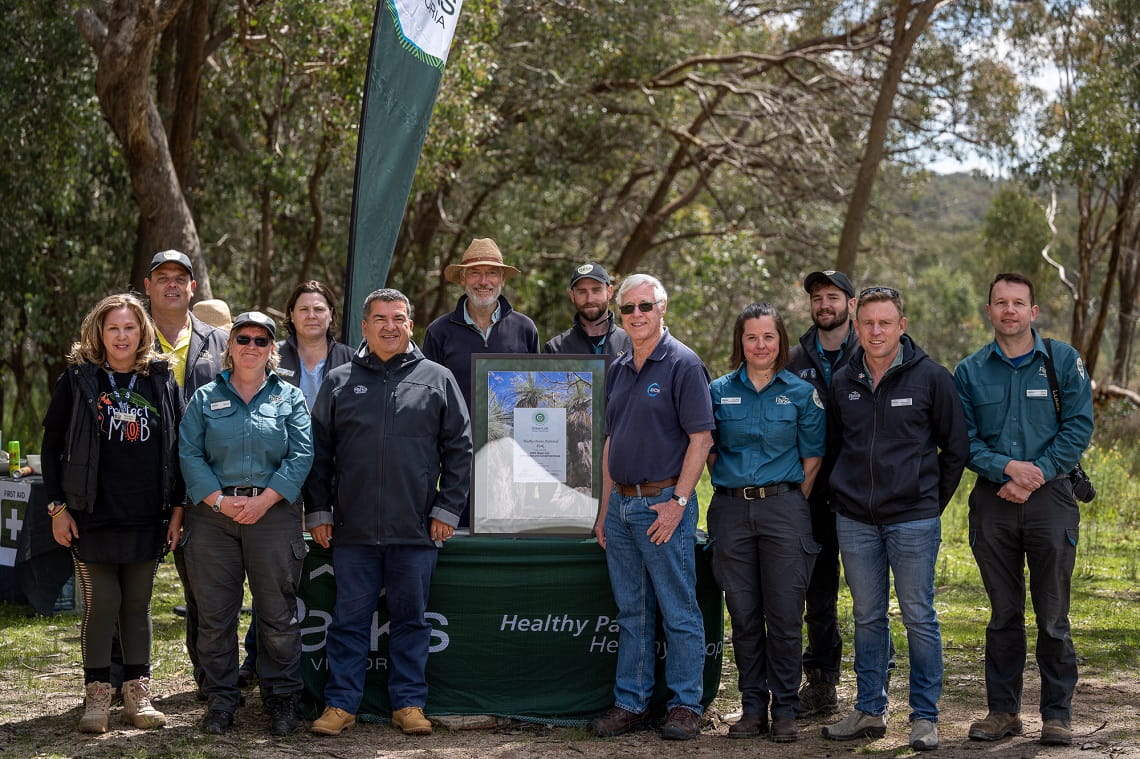 Left to right: Nicole James, Kris Hermans, Sharon Plummer, Charlie Bisset, John Pandazopoulos, Peter Cochrane, Jhye Rosicka, Marc Hockings, Jessica Reid, Kagan Vainisi, Daniel Mclaughlin and Mark Antos – credit, Parks Victoria
After the rejuvenating winter rains, visitors participating in the guided activities were greeted by refreshed vegetation, the sound of streams and waterfalls, and an unforgettable cacophony of bird songs shared lazily throughout the day. From a wildlife detective search with our Junior Rangers crew on a mindfulness walk among colorful wildflowers with the Warby Range Walkers and bird watching games with Swamps, rivers and rangesthere were a variety of opportunities to delve deeper into the park and connect with nature.
The Rotary Club of Milawa-Oxleywith their delicious arrangement of food and treats, also fed everyone while the Friends of Warby Ovens National Park, Goulburn Broken Catchment Management Authority and North East Catchment Management Authority shared their knowledge, their history and the actions planned for the park.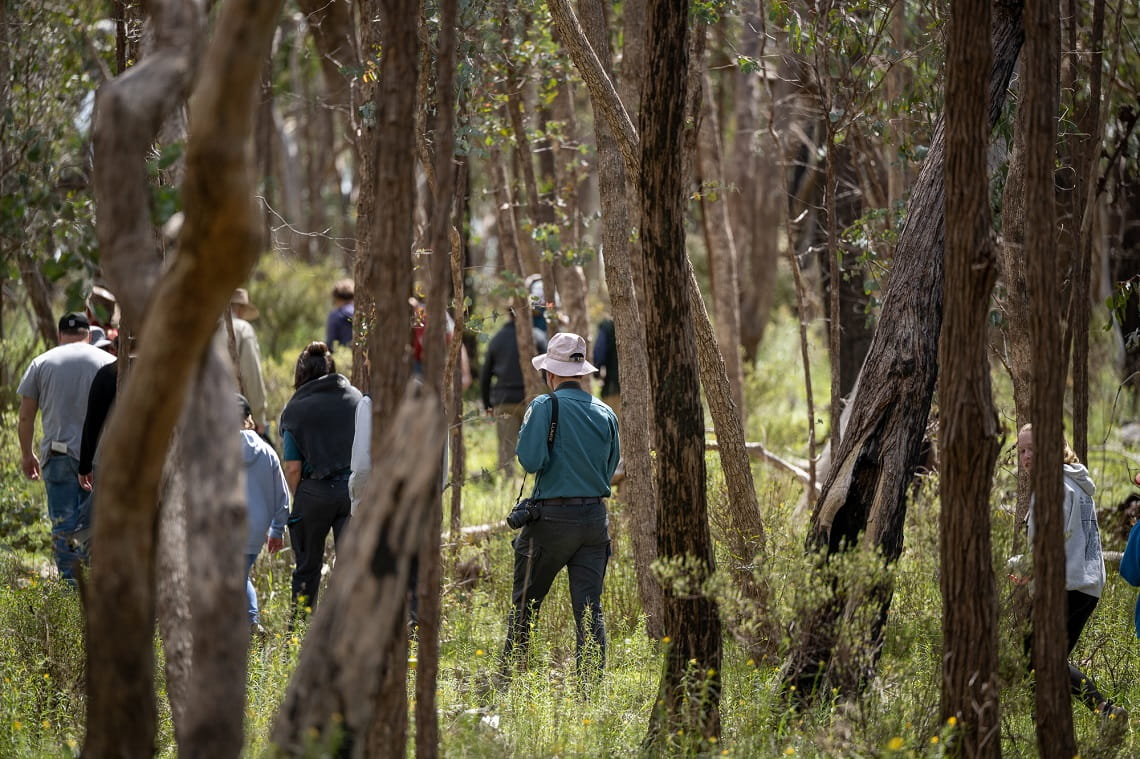 Wildflower walk in Warby Ovens National Park, credit – Parks Victoria
Warby-Ovens National Park provides a sanctuary for the hundreds of native plant and animal species that call it home, such as the migratory swift parrot and the endangered carpet python.
It is also a paradise for nature lovers due to the wide range of recreational, educational and social activities on offer, including bushwalking, bird watching, cycling, camping and canoeing.
The protection and preservation of these values ​​relies on the legacy of the park's conservation history and its engaged local community. Parks Victoria is implementing an adaptive management plan to safeguard the future of the park, developed with input from traditional owners, stakeholders and the community. This collaborative support continues through the Warby-Ovens National Park Advisory Group, established in 2019.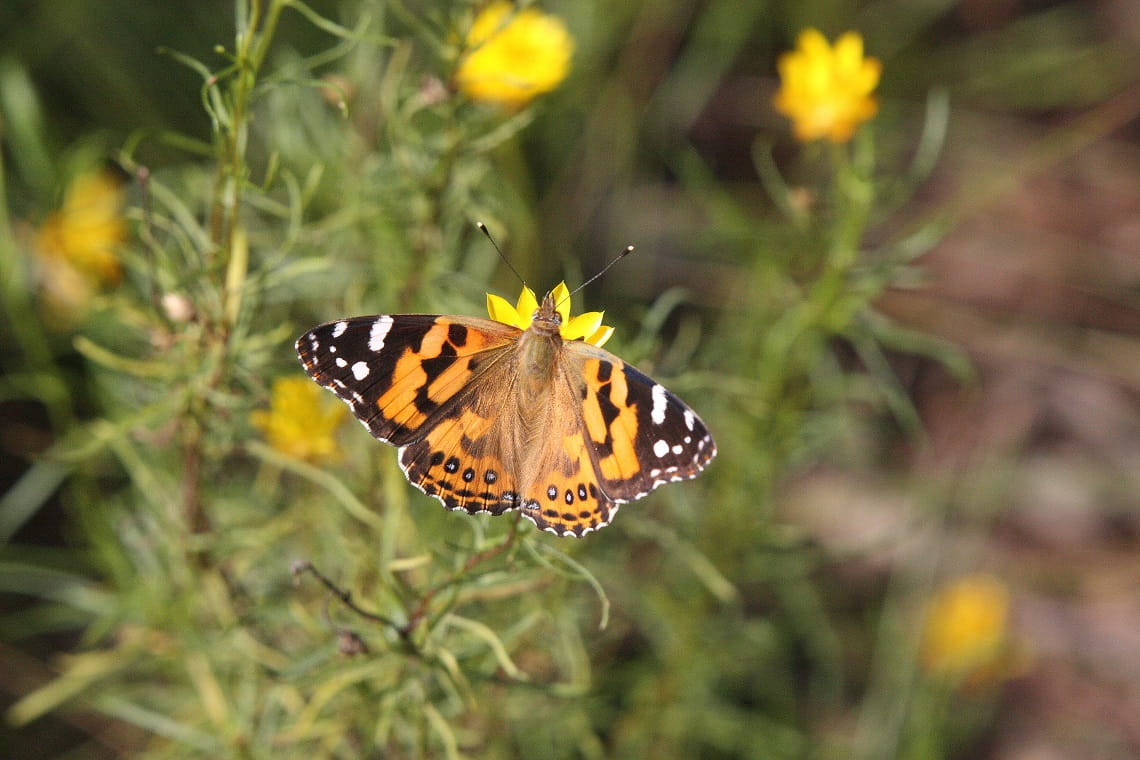 Painted Lady in Killawarra Forest in Warby-Ovens National Park – credit, Parks Victoria
Parks Victoria's long-term management actions include pest plant and animal control; maintain and upgrade existing visitor facilities, as well as plan new visitor experiences; undertake compliance activities, including patrols; nature monitoring with citizen scientists; support the activities of partner agencies; work with traditional owners and improve engagement with stakeholders and the community; and finally, the ongoing management of existing infrastructure and assets.
Parks Victoria Program Manager Kelly Raymond, who led the two-and-a-half-year nomination process, feels "incredibly proud and humbled that Warby-Ovens National Park is now recognized among the best managed parks in the world".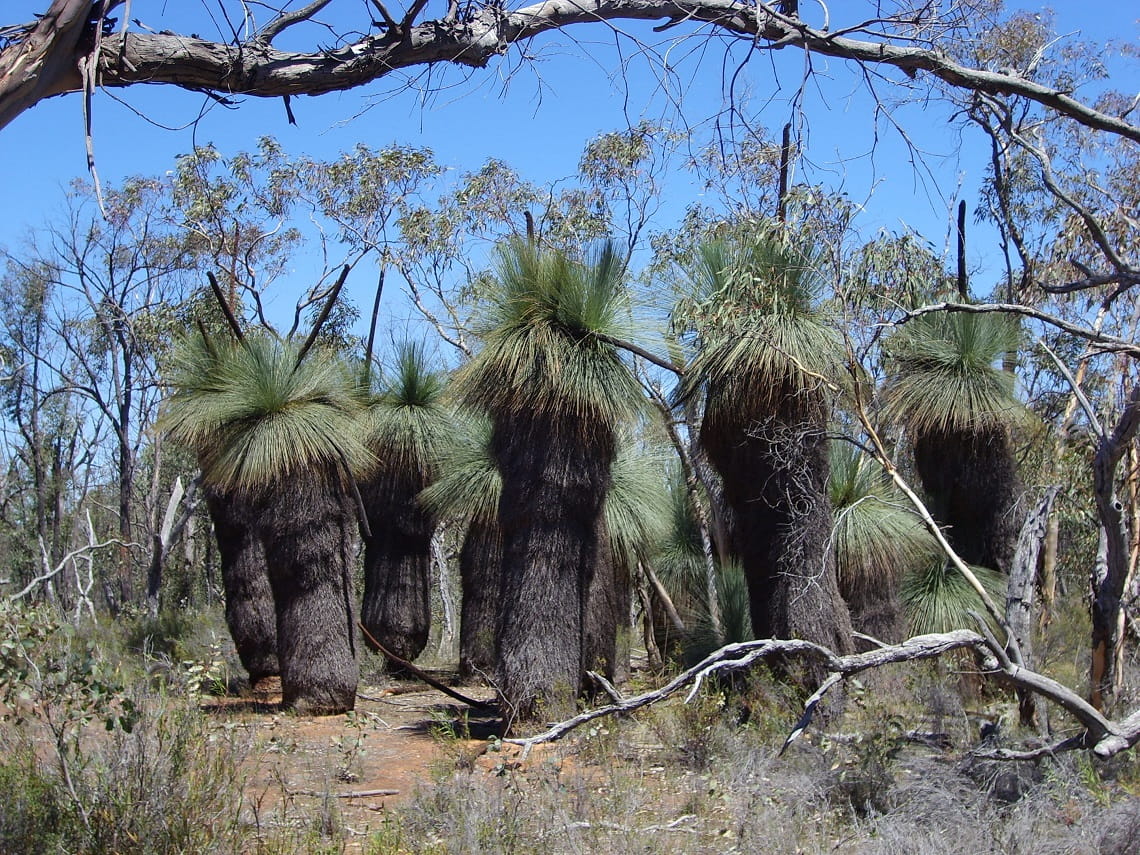 Grass-tress (Xanthorrhoea) at Warby Ovens National Park, credit – Parks Victoria
Andy Kimber and Ian Minns are local residents of Wangaratta with a keen interest in the ecological restoration of Warby-Ovens National Park. Both are members of the Advisory Group and more recently started the Friends of the Warby-Ovens National Park group.
"The distinct ecosystems of Warby-Ovens National Park have faced many challenges since European settlement. As land use and conservation status have changed, we have been very fortunate that these ecosystems have survived relatively intact. Although many management challenges exist, the Parks Victoria team and various volunteer conservation groups are working towards positive results," said Andy and Ian.
"As residents of Wangaratta, having the park close by, the green listing highlights the importance of Warby-Ovens National Park in international conservation rankings. Locals are very proud to recognize the work of policy makers and environmental advocates over the past decades. For many community members, the park provides a closer connection to the country. »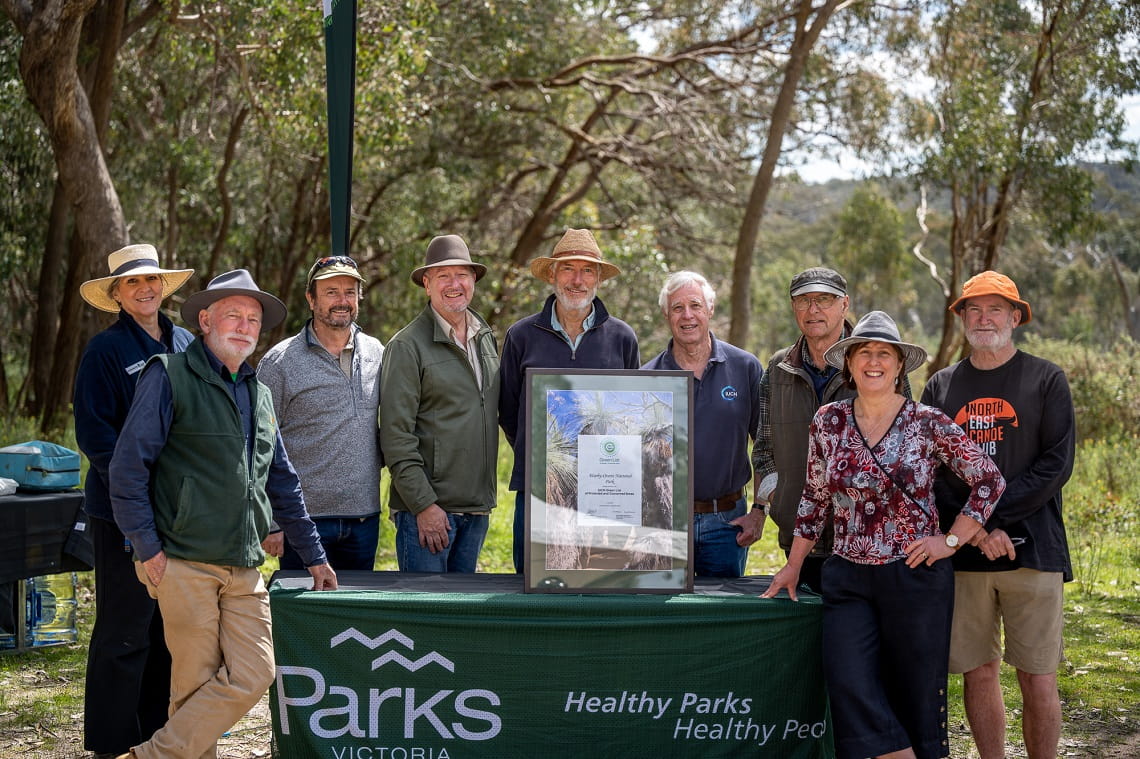 Left to right: Janice Mentiplay-Smith, Andy Kimber, Jamie Kaye, Rob Humphrey, Peter Cochrane, Marc Hockings, Geoff Barrow, Sheree McKenzie (former Advisory Group Chair) and Ian Minns, credit – Parks Victoria.
"But acquiring a Green List also creates a challenge, particularly when management strategies require adaptation to climate change and planning to support biodiversity success. This challenge inspired locals to form a Friends of Warby-Ovens National Park group and develop a website to engage park users on many levels.
"We hope that many more people will get involved in our park, whether it's by participating in the activities of the Friends group such as photography; flora and fauna monitoring; weeding and revegetation worker bees; citizen science projects and educational programs; or through our online discussions, we can have a positive impact on our now internationally recognized park.